Ogura Corporation has a manufacturing floor area of 130,000 square feet, and an office area of 50,000 square feet. The manufacturing operation is vertically integrated, with a wide variety of processes under one roof. Our capabilities include cold forging, v-groove roll forming, CNC machining, stamping, projection welding, and automated assembly. We also store finished goods inventory, allowing us to accommodate varying customer requirements.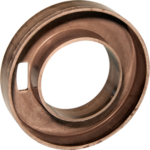 Cold Forging
Our cold forging operation includes independent bonderlube and forging lines. Our bonderlube capabilities provide excellent dry lubricant bonding to the raw material, allowing for good material flow characterizes and excellent tool life in the forging process. Both the bonderlube and forging lines have automated material handling systems, eliminating the need for manual handling of parts. Our forging lines are designed to achieve a high level of productivity, and near-net shape part characteristics, requiring minimal secondary machining operations.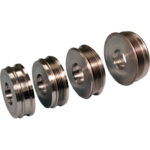 Roll Forming
We have roll forming lines which were specifically designed to produce high-volume poly-v groove rotors. Each line has two lathes to prepare the part for roll forming, and two roll forming machines, linked in series. Our machines can accommodate a wide variety of v-groove profiles and diameters. Each line is fully automated, allowing the operator to focus on monitoring their production.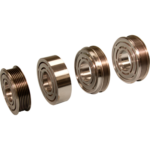 CNC Machining
Our CNC lathes perform finish machining operations on various parts. We also have the capability to machine rotor v-grooves, if volumes are not significant enough to make roll forming a cost effective option. Our machining centers utilize gantry loader systems and chuck part sensing, to eliminate the variation caused by manually loading spindles. We control tight tolerances with in-line automatic gaging systems that provide automatic tool compensation. Poke yokes are used extensively to fool proof our lathe processes.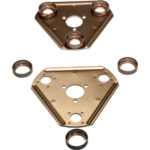 Stamping & Project Welding
Our press capabilities include a stamping press with a coil feed system, and two knuckle presses with transfer feed systems. We also have two automatic indexing projection welding centers. These are used to support our internal requirements, eliminating the need to outsource these processes. Ogura Corporation has vertically integrated wherever possible to provide the highest quality and competitive cost to our customers.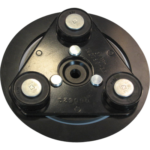 Automated Assembly
Ogura uses extensive automation in our assembly processes. This high degree of automation reduces variation and ensures a consistently high level of quality. Each of our assembly presses has load cell monitoring to ensure that forces are within an acceptable range. End gages perform automatic 100% checks on key product characteristics, and date codes are either laser etched or metal stamped into parts allowing traceability.
Quality Control Lab
Ogura has a fully equipped Quality Lab. Equipment includes:
Two programmable CMMs
Two profile tracer machines
Optical comparator
Hardness tester
Profilometer
Roundness tester
Tension/compression force test machine
Stereoscope / Microscope
Temperature compensated resistance meters
Hi-pot testers
Metallurgical sectioning / polishing / grinding / etching
Microstructure photographic and analysis